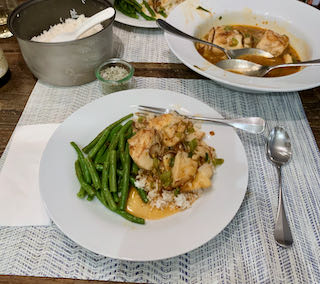 We've been trying to experiment with cooking healthier (i.e. lower-calorie) dishes lately, and we wanted to branch out from pan-frying tilapia filets. I remembered how much we use to enjoy a sichuan restaurant in NYC that had a sort of fish-in-broth that was very spicy and also very very delicious.
A traditional dish would include cooking the cod in a nest of thai chilis, but I thought I could do something a little less spicy and a lot easier, so I decided to try stealing some ideas from a Sichuan Stir-Fried Pork in Garlic Sauce recipe I got from my America's Test Kitchen Twentieth Anniversary Cookbook. (Highly recommended!)
The principle ingredients that deliver the flavor are garlic and chili paste. The latter I bought for that aforementioned stir-fry recipe, worried that I would have an unused chili paste just for one dish, but a few months later I'm almost out! You should be able to find this stuff at your local grocery without going to a specialty shop, but it may take some digging to find it.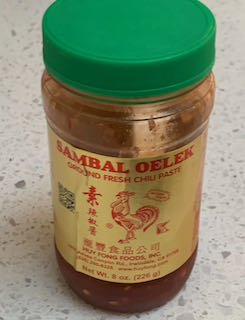 If you don't have some of the ingredients for the braising liquid (mirin, black vinegar, fish sauce) that should be fine. We've been playing around with homemade ramen lately, so we're starting to accumulate some asian condiments.
Ingredients
2 cups prepared white rice
1 lb cod, cut into 4 pieces
salt & pepper
2 tsp corn starch
2 tsp sake (rice wine)
6-8 oz sliced shitake mushrooms
2 celery ribs, cut on bias into 1/4-inch slices
Combine these three in a small bowl:
2 scallions, finely chopped – white parts separated
4 cloves garlic
2 tbsp Asian chili paste
Combine together for the braising liquid:
1 cup chicken or fish stock
1 tbsp cornstarch
2 tsp soy sauce
1 tbsp chinese black vinegar (optional, or substitute 1/2 tbsp rich vinegar and 1/2 tbsp balsamic vinegar)
1 tbsp mirin, if available, or sake
2 tsp fish sauce
1 tsp sesame oil
cilantro (optional for garnish)
Wine Pairing: Sancerre or other White Bordeaux, Loire valley preferred.
Pat the cod dry and sprinkle with some salt and pepper. Mix the sake and corn starch into a little slurry and coat the cod pieces.
Heat 2-3 tbsp vegetable oil to medium-high heat and cook the shitake mushrooms for a 3-5 minutes, then add the celery and cook for another 3-5 minutes. Remove to a bowl and set aside.
Add another 3 tsbp oil into the pan and add the chili paste mixture and cook for 30 seconds until fragrant. Add the cod. (I move some of the chili paste mixture to the top of the cod so it doesn't scorch). Cook for only a couple minutes, and then flip the cod and cook the other side for a couple more minutes. The surface of the cod should just be a little browned (from the cornstarch) but don't worry about having it cooked through.
Add the braising liquid and cover. Once the liquid starts to bubble, lower the temperature to medium low. Cook for another 5-10 minutes until the fish is tender. Serve over white rice.
Garnish with cilantro.
If adding green beans make a nice side dish, add a tsp of the chili paste to them near the end.